The Preakness Valley Golf Course, situated within Preakness Valley Park, is a public 36-hole, full-service golf course with a clubhouse, caddy house, practice facilities, and associated maintenance facilities.
Memberships are available to both county residents and non-residents. Golfers can also pay a visit to the nearby historic Dey Mansion Washington's Headquarters and In The Drink Bar & Grill.
Please visit preaknessvalleygolf.com to learn more about memberships, rates, and golf tournaments.
Address
209 Totowa Road, Wayne, NJ 07470
Click here to download the Preakness Valley Park Map.
A Historic Past
The earliest efforts of the development of a Passaic County Park System began in July of 1926 with the appointment of the Passaic County Park Commission.
Their first action was the hiring of the most prestigious landscape architectural firm, the Olmsted Brothers, who conceptualized the locations of parks and open space areas within Passaic County. Preakness Valley Park was among these areas and contains what is now the Preakness Valley Golf Course and historic Dey Mansion.
While the park was planned by the Olmsted Brothers firm, the golf course was merely a conceptual component to the overall design of the park; it was golf professional Martin H. O'Loughlin of Plainfield, NJ who actually designed the course.
Prior to his contract with the Passaic County Park Commission, O'Loughling constructed four other golf courses: Watchung Country Club in Plainfield, NJ, Prospect Hills Country Club in Fanwood, NJ, Matthew Hoffheimer Private Course in Warrenville, PA, and Armour Private Course in Chicago, IL.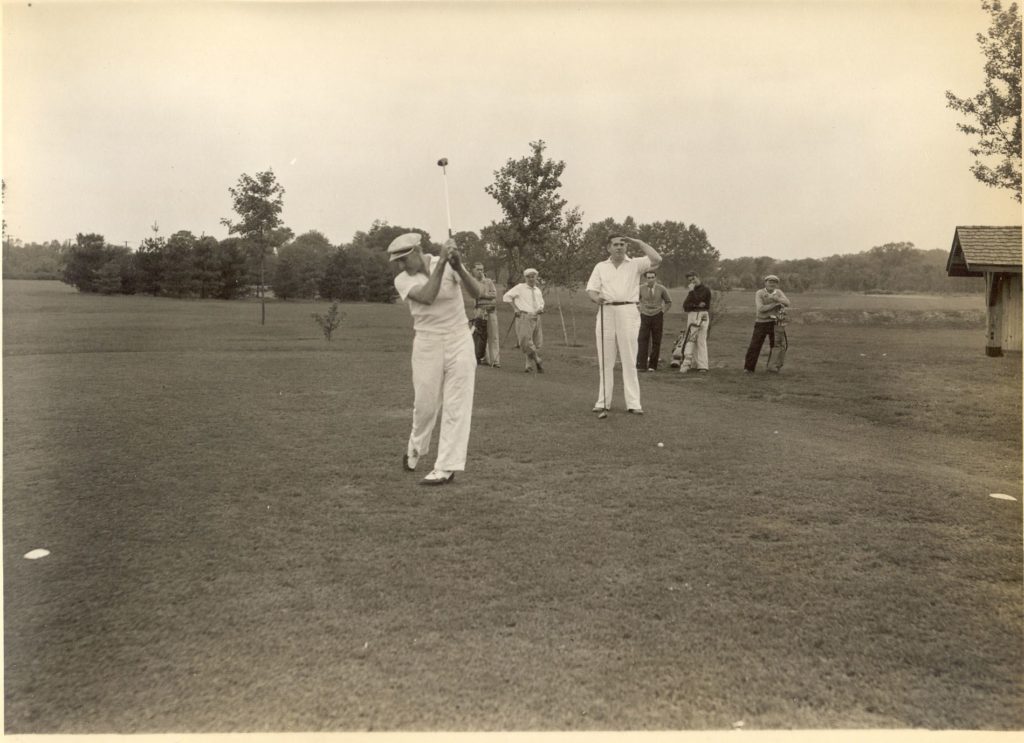 O' Loughlin was hired by the Commission in December 1929 to stake out and supervise the construction work of 18 holes and furnishing plans for 36 holes for the sum of $2,500 at Preakness Valley Park. O'Loughling began work on the course in April 1930.
In June of 1931, a month before the opening of the course, Frederick W. Loede Jr., engineer and superintendent of the Commission, requested further consultation by the Olmsted Firm to furnish a planting study and a study of the golf house approach and parking lot.
The course consisted of 18 holes (pending additional holes not yet completed and still under construction) on dedication day, July 1, 1931. They were christened the red and white nines.
The ceremony commemorating the course's opening was extensively reported in local newspapers. Approximately 150 state, county, and municipal officials attended.
Flag raising ceremonies led by Frederick W. Loede, Jr. Robert Dix Benson, and the commission's president, turned the golf course over to the public, on whose behalf it was accepted by Passaic County Freeholder-Director Edgar H. Ellis. After the flag fluttered aloft, a Boy Scout bugler, Stewart Lee, sounded "Colors." Dignitaries made various speeches.
The entire assemblage then proceeded to the first tee, where Mr. Benson, attired in golfing clothes drove off a gold-painted golf ball. Other officials followed Mr. Benson's example.